Whilst at the SCQuilters retreat, I did a class with Anne Munro on twisted hexagons. It was part of a challenge to myself to learn three new things on retreat (and this was the third thing).
By rights, I should hate it. It requires me to draw on fabric, use scissors (and not a rotary cutter), baste around card stock shapes and then whip stitch in place whilst fighting the stiff pieces of fabric and card which have a mind of their own. Plus it takes FOREVER to even get to the stitching stage.
Somehow though, I have become very addicted. I think it might be because I have the perfect combination of delicious fabric and a pattern I love and which makes me go "a-ha" everytime I join a block to another. I get to hand stitch in front of the telly and my husband thinks I am spending "quality time" with him. On the weekend, I sat in the garden drinking copious cups of tea, cutting enough fabric to make 29 twisted hexagons. I stopped cutting because I ran out of fabric. So I started sewing.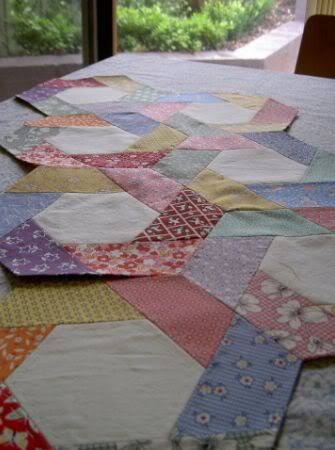 This quilt will be double bed sized, and is for the double bed I don't own, for the spare room I don't have, in the house I haven't even bought yet. I've even styled the imaginary spare room around the quilt. White painted cast iron bed, sheer white curtains billowing in the breeze, lime washed floorboards...


I think it's the perfect 5 year project. Let's pray I don't tire of the delicious fabric by the end of it!