I love most sports, but I'm not much of a soccer fan until you add a Dutch team into the mix and suddenly I'm the most avid soccer fan you've ever met.
So on Sunday morning you would have found me here watching Netherlands v Costa Rica.
That's the perfect ironing board height to make perfectly curved clams for my Manhattan Clam quilt while I sit my half-Dutch backside on the sofa and yell loudly.
Speaking of clams, the quilt is progressing well, but I'm getting a little bit bored with it now. I can't explain it - I love the process, the fabrics, and the appliequing, but I am really, really looking forward to the quilting so I can't wait to finish the hand work and square it up!
The backing for a larger quilt was sewn together. Massive dots - I couldn't resist!
My physio gave me new exercises to strengthen my bad back this week, but he didn't mention anything about scrambling on the floor and pin basting a very large quilt. Probably because I didn't tell him I was thinking of doing it.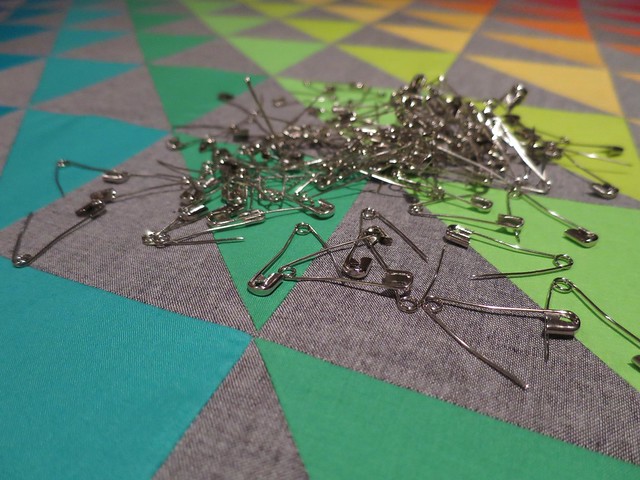 Result - one very sore Michelle, and a couple of big black bruises on each knee. But I don't care - the quilt is basted! Hooray!
I'm joining up with my friend
Gemma's
linky party this week. (If you read Gemma's post you might also glean a little bit of exciting news that happened to me this week! But more on that next week when I get back from a little trip to Sydney.)