Until 9pm last night, I didn't have an entry for the Canberra Quilt show this year. I was at the Canberra Quilters meeting, and we were getting reminder after reminder about having our forms and photos in within 2 weeks. I had a couple of UFOs I could have finished, but neither were good enough in my opinion to be exhibited.

And then at 9pm I won a prize in the raffle. This is incredible enough - I've never won the CQ raffle before. Normally all those I bring as visitors do, though. So I selected a pack of 30 x 10 inch Jane Sassaman (mostly) squares, and sat back down in my seat. And started thinking.

I hate brainwaves. They always hurt.

By the time I drove home, I had a quilt drafted in my head, using these 10 inch squares. I designed it on paper, planned a Friday afternoon off and a bus trip to the local quilt shop, and then I was on my way to a fitful sleep dreaming of framed squares.



The fabrics on the left are the squares I won last night. The fabrics on the right are the ones I bought as potential frames for the squares on the left.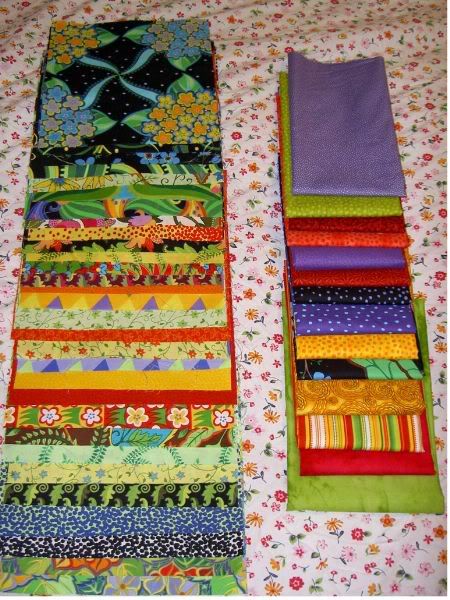 Of course I have to find time to make this quilt top in time for the photo and entry form to be entered - it should only take me a day or so, but the husband thinks I am spending the whole weekend with him in the garden. So I'm planning an allnighter tonight. If I'm asleep in bed all day tomorrow, I won't be able to garden, will I?!