When a sewer loses her confidence in sewing after more than 24 years of doing it, it takes some serious real-talk and pepping to get her back to her former sparkling self. This is what happened to me a few weeks ago. I made an Astoria top and it was a disaster. All over the internet people were making Astorias that look fantastic, and I couldn't get a simple muslin to be even close to fitting. Seams were taken in, shoulders were raised, but it just didn't work. My body measurements have changed recently, and now the usual shape I expect to sew for just isn't there anymore. And with that one simple, stupid top, all confidence I had went out the window.
Silly isn't it? As a beginner sewer 24 years ago I was self-drafting pinafores and making crazy crushed velvet knit tops. Making boxy Chanel jackets from raw silk. Inserting pockets in everything and pleating like a boss. Anyway thanks to a few friends who talked me down (one even extending her friendship to going through the online Simplicity, Butterick and McCalls catalogues with me via email one morning. Bless you Siobhan) I found a dress I thought could give me my confidence back, and also double as a Canberra Frocktails dress.
It's
Simplicity 1466
, which on the packet photo has a top and skirt and pants, but over to the side in a teeny drawing, a dress. A lovely, princess seamed, yoked, tabbed dress with a flared skirt and a certain vintage feel to it. No lining. No bodices. Plenty of seams to take in and take out if needed.
Due to some time pressures at home and work, and being away for a week prior to Frocktails, I knew I wouldn't be able to cut it out until the Saturday before Frocktails. What I wasn't counting on though was injuring my back quite badly (again) the week I was away, and coming down with a chest infection and asthma the moment I hopped on the plane to come home. The spirit to sew was there, but my body let me down big time. I managed to cut the dress out on Saturday afternoon when I was still feeling ok, but sewing was done in five minute blocks eveery few hours in between naps. I didn't expect to finish the dress, but I wasn't stressed about it at all mainly because I was feeling too sick to give a toss.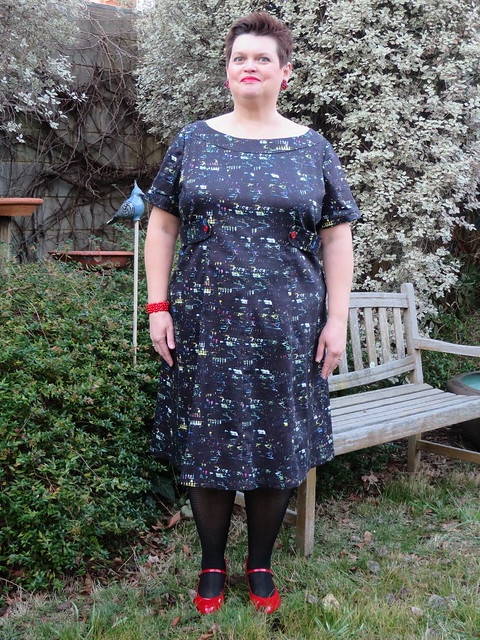 I finished stitching those buttons on at 10.20 pm on Friday night. It's a dress that could normally be cut and sewn within a few hours.
Construction wise, this dress was a bit of a doddle. Contrary to instructions, I basted all the seams first and tried it on without the yoke attached. Immediately I knew I would have an issue with the neckline gaping - I seem to be about two sizes smaller in the upper bust than the actual bust, and I have narrow shoulders. There wasn't too much I could do about it as I had no fabric spare to redraft the yoke, so I forged on. It worked out ok on the night but could have been better. I also did away with the zip. It was stretch sateen, so didn't really need the zip, but I also had to be clever about how I spent the time I could at the machine, so the zipper went out the window.
The fabric was a cotton sateen I picked up in Spotlight on Anzac Day when I went shopping with Siobhan and
Kirsty
. They are fantastic enablers. It reminded me immediately of city lights, kind of like this:
That was my view from my apartment in Sydney last week.
Unfortunately the fabric was a complete disaster from the get-go. When I pre-washed it, it lost all of the sateen finish of the fabric - and I was left with lumpy, flat, dull, dusty looking fabric. Then when ironing it before cutting it out, noticed a lot of faults - brown streaks going all the way through the fabric. It wasn't in the pattern as it was irregular, and definitely a fault. By this time I lost my temper at the fabric and at Spotlight, especially as I could have found a replacement fabric in Sydney the week before, and also I wasn't in any state (with a bad back and laryngitis) to go back to Spotlight and argue the point with them. So I cut the fabric out and hoped for the best, and ignored the fact I'd ever seen the faults. This self-brainwashing seemed to work, because when doing the final press I couldn't find them anymore.
Overall I'm really happy with this dress and I will make it again but I will also take in the upper chest seams and redraft the yoke in response. The tabs are a visual replacement for a bodice - bodices on me tend to sit mid bust, not below the bust, and these just provide enough of a break in the dress to give it interest. I used vintage buttons from my collection. The top patternin the envelope has a sleeveless version, so I can see this being a summer staple in my work wardrobe.
Photo by Myra.
Now, on to Frocktails. Some friends and I got together and decided to hold a
Canberra Frocktails
. For the uninitiated, Frocktails is where the online sewers of Australia get together to drink, eat and wear fabulous frocks they have sewn. There have been Frocktails held in Sydney and Melbourne before, but we thought hey, what would be
great
about holding a Frocktails in Canberra in the middle of winter?
Absoutely everything
, we said. And we were right. It was a fantastic evening. We had 27 sewers from Canberra, Sydney, Melbourne and Brisbane join us last night at Hotel Hotel.
With Liz. She was also wearing Simplicity, although vintage. I'm sure she'll blog about it.
So the sewing confidence is back, but I've realised in the last week I have an enormous stash that is scattered across the house and I'm starting to misplace fabric, like the lovely black ponte I was going to make a jacket from. No idea where it is, but this afternoon, as a hangover cure, I'll be sorting the piles and giving everything a bit of a spring clean. And then I will start cutting out things and actually sewing them to wear. Winter here in Canberra is long and cold and I'm desperate for some more warm clothing. Stay tuned!